---
Welcome to Butterfly Boutique Collective!
The passion of Butterfly Boutique Collective is to create and provide something that will make you feel good and that you will love for yourself or as a gift for someone else.
We specialize in custom graphic tees and adorably fun yarn creations. You are sure to find something for anyone you are looking to get gifts for.
We are glad you have found us and please let us know if you have any questions.
---
New Arrivals
All new arrivals can be viewed here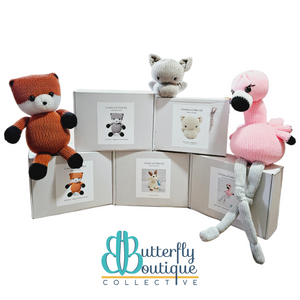 Create A Critter Kit
The Create A Critter kits are the perfect way to give an experience and get a tangible gift out of it when you are done. 
The kit comes with everything you need (except scissors) to make your very own adorable stuffed animal.
Click the button to see the collection of kits.
Create A Critter Kit Collection
Shop Butterfly Boutique Collective